Overview
Achilles Tendinitis is a painful condition. Running and walking are made possible by the Achilles tendon, which attaches the calf muscle to the heel bone. Strenuous exercise, jumping, and climbing are all movements that can strain the tendon and calf muscles, causing an inflammation known as tendinitis. The injury to the Achilles can be mild, requiring only rest and over-the-counter anti-inflammatory drugs, or severe, necessitating surgical repair of the damaged tendon. Chronic Achilles tendinitis can lead to micro tears in the tissue (tendinosis), which weaken the tendon and put it at risk for severe damage such as a tear or rupture.
Causes
Possible factors leading to the development of Achilles tendonitis include the following. Implementing a new exercise regiment such as running uphill or climbing stairs. Change in exercise routine, boosting intensity or increasing duration. Shoes worn during exercise lack support, either because the soles are worn out or poor shoe design. Omitting proper warm-up prior to strenuous exercise. Running on a hard or uneven surface. Deformation in foot such as a flat arch, or any anatomic variation that puts unnecessary strain on the Achilles tendon.
Symptoms
Symptoms vary because you can injure various areas of the muscle-tendon complex. The pain may be an acute or chronic sharp, stabbing, piercing, shooting, burning or aching. It is often most noticeable immediately after getting out of bed in the morning, or after periods of inactivity, like sitting down for lunch. After a couple minutes of walking around, it will often then settle down somewhat, before becoming symptomatic again after excessive time standing or walking. But regardless of how the pain is perceived, Achilles tendon pain should not be left untreated due to the danger that the tendon can become weak, frayed, thickened, and eventually it may rupture.
Diagnosis
To diagnose the condition correctly, your doctor will ask you a few questions about the pain and swelling in your heel. You may be asked to stand on the balls of your feet while your doctor observes your range of motion and flexibility. The doctor may also touch the area directly. This allows him to pinpoint where the pain and swelling is most severe.
Nonsurgical Treatment
Massage therapy improves blood flow to the muscles and tissues of the affected area while increasing range of motion and can prevent recurring injury. The healing process can be quickened using ultrasound heat therapy to improve blood flow to the affected area. Wearing a night brace keeps the leg flexed, preventing stiffening of the tendon, which would impair healing. Stretching exercises increase flexibility and allow the tendon to heal without shortening, a deformity resulting in chronic pain. Persistent Achilles pain may warrant the use of a cast or walking boot to be worn for 4-6 weeks stabilizing the tendon so it can heal. After removal of the cast or boot, physical therapy will be ordered to increase functionality of the affected limb. To reduce chronic inflammation of the tendon, corticosteroid injections may be prescribed. It?s important to note that this corticosteroid treatment increases the risk of tendon rupture. Ultrasound imaging may be used by the physician administering the steroid injection, in order to help visualize the affected area. When all other therapies have failed to or tendon rupture occurs, surgical intervention and repair of the muscles and tendons is the last treatment option.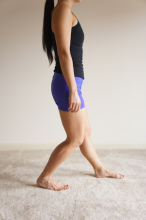 Surgical Treatment
Surgery is an option of last resort. However, if friction between the tendon and its covering sheath makes the sheath thick and fibrous, surgery to remove the fibrous tissue and repair any tears may be the best treatment option.
Prevention
So what are some of the things you can do to help prevent Achilles Tendinitis? Warm Up properly: A good warm up is essential in getting the body ready for any activity. A well structured warm up will prepare your heart, lungs, muscles, joints and your mind for strenuous activity. Balancing Exercises, Any activity that challenges your ability to balance, and keep your balance, will help what's called proprioception, your body's ability to know where its limbs are at any given time. Plyometric Training, Plyometric drills include jumping, skipping, bounding, and hopping type activities. These explosive types of exercises help to condition and prepare the muscles, tendons and ligaments in the lower leg and ankle joint. Footwear, Be aware of the importance of good footwear. A good pair of shoes will help to keep your ankles stable, provide adequate cushioning, and support your foot and lower leg during the running or walking motion. Cool Down properly, Just as important as warming up, a proper cool down will not only help speed recovery, but gives your body time to make the transition from exercise to rest. Rest, as most cases of Achilles tendinitis are caused by overuse, rest is probably the single biggest factor in preventing Achilles injury. Avoid over training, get plenty of rest; and prevent Achilles tendinitis.